This Rakhi lets be Eco friendly.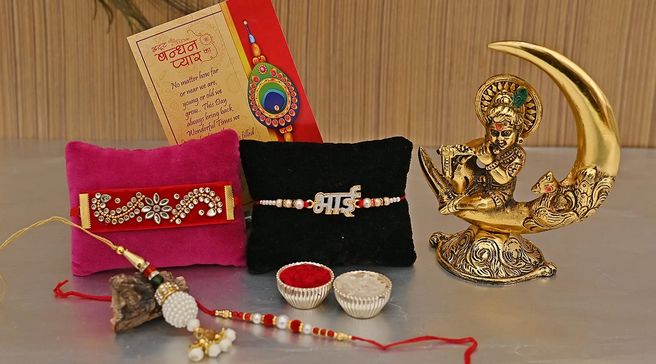 This Rakhi lets be Eco friendly.
This festive season lets contribute positivity to the environment.
Rakshabandhan is a festival of bond. It comes in the month of shraavana, which falls in August. The sister ties the rakhi on her brother's wrist. She also puts roli and rice on brother's forehead. This symbolises her love and care and the brother promises to protect her. This is the most beautiful festivals of all as it depicts the beauty of the bond between the siblings.
This Rakshabandhan Craftvatika initiates to protect environment just like a brother promises for his sister. Our environment is in the serious need of Eco friendly products. Every year we can find lot of plastic festive materials in the market including the rakhi. These are made with harmful and toxic material which is harmful for the ecosystem.  These are usually used once and later get wasted. On the name of festivals lots of non biodegradable materials are used. These are not only worst for the environment but are also used once or twice by people.
Craftvatika presents unique collections of rakhi. Eco friendly rakhis are made with 100% biodegradable materials. Some of them are plantable rakhis which has seeds in them which helps in growing plants. We also have eco friendly rakhi gift hampers for your sisters or sister-in-law
Protection of environment is the need of an hour.
What are the benefits of the eco friendly rakhi?
These are 100% festive 0% plastic- You may be worried about how the rakhis will look if they are not plastic?
Made with environmental safe colours, these rakhis are highly festive and looks beautiful when worn. Make choices you won't regret.  Your bhai will be impressed!
Biodegradable – Made with 100% natural and recyclable material. These are easily decomposed and are very safe for the environment. We are sure this will make you enjoy your festival a little more. You will not regret buying this product.
Plantable – Some of the rakhi also has seeds in them. This makes them plantable rakhi. We assure whenever you will water this plant, it will make your rakshabandhan more memorable. Plant seeds of love and carrot together and do not forget to water them.
Perfect gifting option- We have wide range of eco friendly hampers. You can give this as a return gift to your sister or even your bhabhi. Not just for rakhi but for any festivities. With beautiful packaging this makes a perfect gift for almost any occasion.  May your love lushes like the plant you are about to grow.
With the immense change in climate it is the need of an hour to change our choices. It is a necessity to initiate and take wise decisions. So this year, do not just tie a knot to of protection to your brother but also to your environment. Use more sustainable products. Create more green and clean environment. Recycle your waste and decompose wisely.
Recycle, reuse and re grow not just your rakhi but your love.