Surprise your dear brother with rakhi gift hampers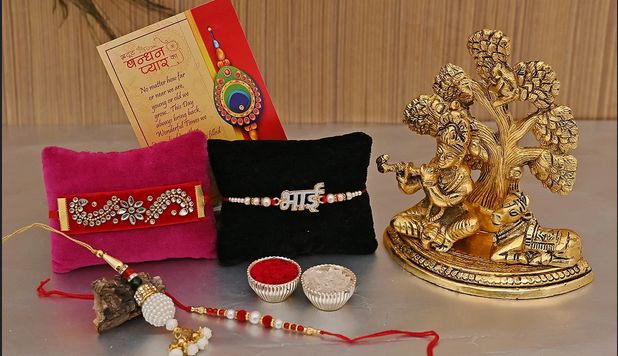 Surprise your dear brother with rakhi gift hampers
Rakhi is the festival of showering love at your brother. It is the auspicious occasion to celebrate love and affection for your dearly sibling. This festival is celebrated all around India with great enthusiasm. A sister ties the Rakhi on her brother's wrist and he promises to protect him all his life. Your amazing brother is your whole world. This is your chance to strengthen your bond and shower him with love and surprises. Now with the changing time, sisters too are pampering their younger or older siblings. However, it is customary for brother to gift their sisters especially on the special occasion of Rakhi. Make your brother feel special by gifting him designer rakhi hampers online. Although when it come to gifts there are number of gifts options one can choose from. Well to resolve this issue we are here to suggest you some of the awesome ideas you may want to choose from.
Rakhi gift baskets- chocolates are the best gift to ever gift or receive. Buy chocolate gift baskets wrapped up beautifully without any doubt. Your sweet toothed brother is going to love it. With wide variety of chocolates to choose from add the designer rakhi as well as roli mauli and you are good to go. Even if he's far away he will taste the sweetness of your bond. You may choose among your brothers liking and maybe some for you after all it's all about sharing right?   
Coffee mugs- If your brother is a coffee addict, this one is for you. Gift him customised or designer coffee mug for his special morning coffee. He is going to love it and will thank you for this very thoughtful and useful Gift. Everyone loves surprises we have special coffee mug hampers as well. Choose the best one for your dearly beloved bhai.
Rakhi hampers - Rakhi hampers are in trend these days. Do not miss on them. These are forever loved gifts by almost everyone. We have beautiful Rakhi hampers with dry fruits, designer rakhi, idols or even decorative diya's. Not just for your Bhai but also impressive gift for your awesomesauce Bhabhi. These decorative items will definitely get approved by your Bhabhi.
Customised gifts - Customised gifts are modified by your choice. Either they are given individually or in hampers they are totally gonna rock. These will be admired by your brother if you personalise it for him. Mugs, chains, t-shirts and Key chains etc. adds a special touch to your everlasting love. He will always remember you whenever he will use them. You can also customise them for both you and your brother just for that extra vibe.
Eco friendly gifts- With changing trends we also encourage to shpw some love for environment. Eco friendly rakhis are made with 100% biodegradable materials. Some of them are
plantable rakhis which
has seeds in them which helps in growing plants. We also have eco friendly
rakhi gift hampers
for both your Brother and you Sister-in-law. You will surely not regret your choices.