Rakhi Chocolate Gift Hampers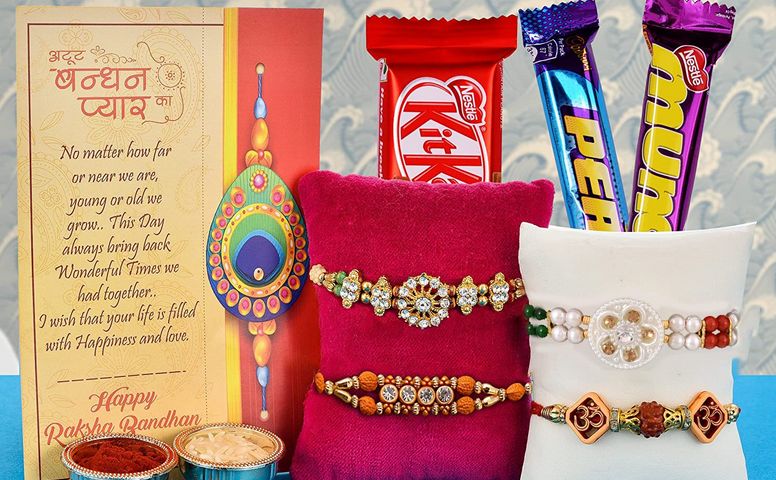 Rakhi Chocolate Gift Hampers are special gift packages that are popularly exchanged during the festival of Raksha Bandhan in India. Raksha Bandhan is a traditional Hindu festival celebrated to honor the bond between brothers and sisters. On this occasion, sisters tie a decorative thread called Rakhi on their brothers' wrists, symbolizing their love and protection.
Chocolate gift hampers are a delightful and sweet way to express affection and gratitude to siblings during Raksha Bandhan. These hampers usually contain a variety of chocolates, beautifully arranged and packaged. They can include popular chocolate brands, artisanal chocolates, truffles, chocolate bars, and other chocolate treats.
Rakhi chocolate gift hampers are often customized to suit individual preferences and budgets. They may also include additional items like greeting cards, dry fruits, nuts, or small gifts along with the chocolates. These hampers are widely available in the market, both in physical stores and online platforms, during the festive season.
Gifting Rakhi chocolate hampers allows siblings to indulge in delicious treats while celebrating their bond. It adds a touch of sweetness and joy to the festival, making it even more memorable.
When it comes to Rakhi hampers, there are numerous options available to suit different preferences and budgets. Here are some popular Rakhi hamper ideas:
Chocolate Hamper: A chocolate hamper is a classic choice and is loved by people of all ages. You can include a variety of chocolates such as truffles, chocolate bars, chocolate-covered nuts, or a mix of different brands and flavors.
Dry Fruit Hamper: A hamper filled with a variety of premium quality dry fruits is another popular option. Include almonds, cashews, pistachios, raisins, and other dried fruits. These hampers are not only delicious but also healthy.
Sweets Hamper: Rakhi is a festival known for indulging in traditional Indian sweets. You can create a hamper with an assortment of sweets such as ladoos, barfis, gulab jamuns, or rasgullas. Opt for a mix of different flavors and varieties.
Tea or Coffee Hamper: If your sibling enjoys tea or coffee, a hamper filled with their favorite blends, tea bags, or coffee beans would be a thoughtful choice. You can also add some biscuits or cookies to complement the beverages.
Personalized Hamper: Customize a hamper based on your sibling's preferences and interests. Include items like personalized mugs, photo frames, a handwritten note, a favorite book, or any other meaningful gift that holds sentimental value.
Spa or Self-Care Hamper: Put together a hamper filled with items for relaxation and self-care. Include scented candles, bath salts, essential oils, face masks, body lotions, or any other pampering products your sibling would appreciate.
Gourmet Food Hamper: If your sibling is a foodie, a gourmet food hamper could be a great choice. Include artisanal snacks, specialty cookies, flavored nuts, exotic sauces, or a selection of international delicacies.
Plant Hamper: Embrace the green gifting trend by creating a plant hamper. Include small potted plants, succulents, or herbs along with a decorative planter, gardening tools, or plant care instructions.
Remember to personalize the hamper based on your sibling's preferences and interests. You can also add a Rakhi thread, a greeting card, or any other Rakhi-related items to complete the festive touch.