Illuminating Traditions: The Significance of Diyas in Diwali Celebrations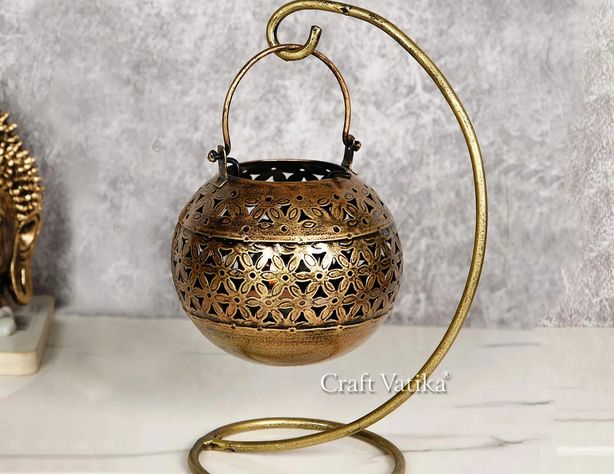 Illuminating Traditions: The Significance of Diyas in Diwali Celebrations
Introduction:
Diwali, the festival of lights, is a vibrant and joyous celebration that holds immense cultural and spiritual significance in Hinduism. At the heart of Diwali festivities are the traditional oil lamps known as diyas, which play a pivotal role in illuminating homes and symbolizing the triumph of light over darkness. In this article, we delve into the profound role of diyas during Diwali, with a focus on handmade diyas and tealights, as well as the elegance of metal diyas.
One of the most cherished aspects of Diwali is the artistry and craftsmanship involved in creating handmade diyas. These small clay lamps, often molded by skilled artisans, are not just sources of light but also carry a deep cultural heritage. Families across India engage in the tradition of crafting diyas together, passing down the skill from generation to generation.
Handmade diyas are more than just decorative items; they symbolize the warmth and togetherness that Diwali brings to families and communities. Lighting these diyas is believed to invite positive energy into homes, dispelling negativity and fostering an atmosphere of love and unity.
Tealights, a modern twist to traditional diyas, have gained popularity for their convenience and versatility. These small, often scented candles encased in a metal or plastic container provide a hassle-free way to illuminate homes during Diwali. While not as intricately crafted as handmade diyas, tealights still capture the essence of the festival and are often used to complement traditional diya arrangements.
In addition to the rustic charm of handmade diyas, metal diyas add a touch of elegance and sophistication to Diwali decorations. Crafted from various metals such as brass, copper, and silver, these ornate lamps come in intricate designs, featuring patterns inspired by traditional motifs and symbols.
Metal diyas not only serve a functional purpose by holding oil and wicks but also double as exquisite pieces of art. Their lustrous finish and intricate detailing make them prized possessions, often passed down as family heirlooms. Lighting metal diyas during Diwali is not only a way to celebrate the festival but also an expression of reverence for craftsmanship and the cultural heritage embedded in each piece.
Symbolism of Diyas in Diwali:
The significance of diyas in Diwali extends beyond their aesthetic appeal. Lighting diyas holds profound spiritual meaning, representing the victory of light over darkness and good over evil. The glow of the diya is believed to dispel ignorance and symbolize the enlightenment of one's inner self.
During Diwali, homes are adorned with rows of diyas, creating a mesmerizing spectacle of light. The collective illumination is a visual representation of the collective consciousness striving for a brighter, harmonious world. The act of lighting diyas is not just a tradition; it is a sacred ritual that brings families and communities together in the spirit of joy, hope, and positive energy.
Conclusion:
As Diwali approaches, the role of diyas in the celebration becomes increasingly significant. Handmade diyas and tealights, with their simplicity and charm, bring families together in the joyous act of creation. Meanwhile, metal diyas add a touch of opulence and cultural richness to the festivities.
Beyond their decorative appeal, diyas serve as powerful symbols of light, hope, and unity. The tradition of lighting these lamps during Diwali is a testament to the enduring cultural and spiritual significance of this festival of lights. As the diyas flicker and glow, they carry forward the essence of Diwali—illumination, positivity, and the triumph of good over evil.