Celebrate rakhi with rakhi chocolate gift hampers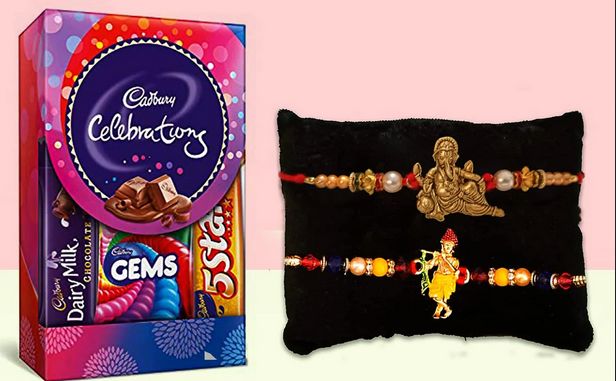 Celebrate rakhi with rakhi chocolate gift hampers
Ditch the sweets and choose chocolates this Rakshabandhan.
Rakhi is just few months away what are you sending your brother along the roli and rakhi? Still going with the boring sweets? It's time to satisfy the cravings for your sweet tooth through chocolate.
Rakshabandhan is the festival to celebrate the everlasting love and pure bond of the siblings. Your siblings are the one whom you cannot live without. They are your best friend and enemy, someone you can rely on for your darkest secrets and blackmail at the same time. Basically someone you can wind up yourself at the end of the day. This is the festival to celebrate and cherish the never ending sweet and bitter memories of this pious bond. It is the most awaited and cheerful festival to involve many fun elements including exchanging of gifts and sweets. If your brother or sister lives away in another city and they may not be able to come home. You can also consider sending them sending rakhi with chocolates online. Craftvatika has wide variety of product options to choose from.
Gifts are the representation of your love, care and emotions which you feel for the other person. This is the gesture to show your care for someone. Gifts are the way to show and make other person realize that they hold a very special place in your heart. Every gift either big or small in size holds its own value. You can shower your love on your sibling by gifting them rakshabandhan gift hampers for brother. In olden days, when sister tied rakhi on her brother's wrist, it was the sister who gave gift to the brother. With the changing era, brothers too started gifting the sisters, Therefore the trend of gifting is increasing day by day. There is variety of gift options available from where you can make choices but deciding the perfect gift can be exhausting. We are here to resolve the difficult. Nowadays the trend of hampers is making things easy and convenient. What they might like or what they might not's dilemma can be very difficult and to ease that the best way is to buy a hampers. This includes chocolates, idols, rakhi, dry fruits and many more things. It is one of the most convenient gifts of all.
When we talk about rakhi and the gifts we may get even confused about what kind of rakhi to get for out dearly beloved younger brother. Craftsvatika has immense range of cutest rakhi ever. To excite your little sibling there is no need to search or explore market when you have lovely
toy rakhi
available in our collection. . Collection includes characters from cartoon, super heroes' marbles to DC comics, Cars, unicorns and other fun and cute rakhi. There are many devotional rakhi available for kids where figures of Lord Krishna, Rama , Ganesha and Shiva to gift your loved ones. These are perfect to prtotect your brother from the evil eye and convey your blessings and love. Many kinds of unique rakhi like swastika, Om, ganesha and available with hampers including roli and rice and chocolates, mugs, idols, decorative items and even dried fruits.